Business card gives the first imperssion about you or your company. So it is very important that it is well designed and printed in high quality. Business cards are printed on white high quality paper. You can also choose different design, thickness and color paper.
Business card printing file requirements: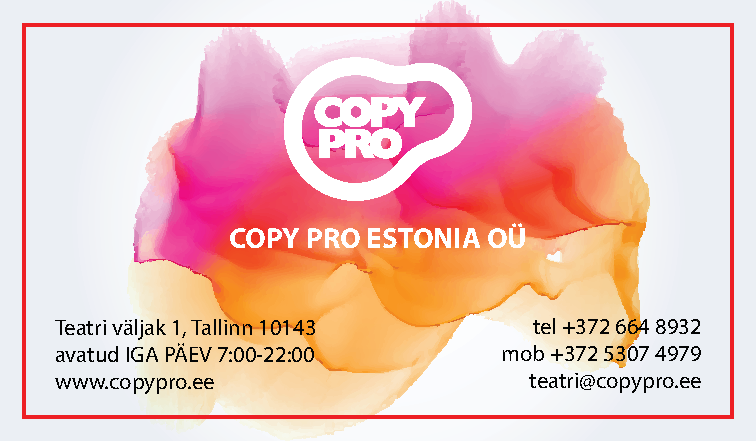 Standard size 50x90mm
3mm bleed (area outside the red line)
File size with bleed 56x96mm
The red line marks cutting line – anything outside the red line is cut off
Design must be in CMYK colour space
If you use RGB colour space we will convert it to CMYK and it will cause a change in colours, for example very bright colours will become dimmer.
File format PDF (PDF/X-1a standard is the most suitable for printing)
Do not add any cutting or printing marks
For a good design:
Use up to two different fonts
Font size at least 8 points
Use different colours and design elements moderately – a business card that is too vibrant does not leave a reliable and good impression
Add only necessary information (concisely and briefly)
If the company has a style guide or uses a specific style in their marketing materials use the same style, colours and fonts
Do not place logo/text/important design elements to the very edge of business card – leave at least 3mm space around the edge
If you use raster images (photos) in your design make sure they have a resolution of 300dpi for high quality results
Make sure to check all the numbers, addresses and typos before sending the file to print
Need help with creating the design? Contact our Teatri or Maakri store and we will be happy to help.
For the best offers, discounts and easyer order placing we offer companies an opportunity to become our corporate clients by signing a contract with us: